/// 11.09.07
Hello friends (sup enemies). The Grime News has been barren for some time now, but we're back. Lots of new grimey© developments.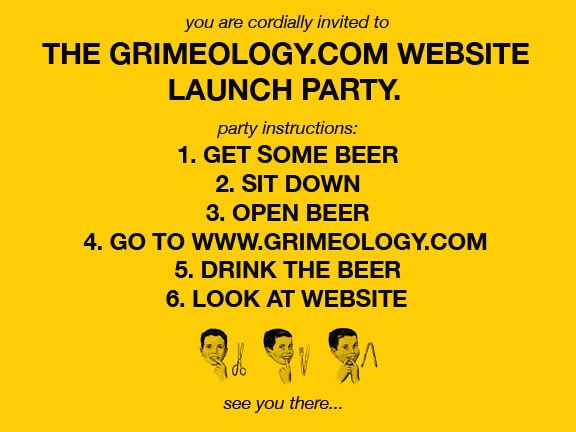 /// After too much time in the grime gutter, the Grimeology website is now back. And way better I might add. Us here at Grimeology are now able to *gasp* UPDATE the site to keep Grimey© happenings current. There's even a store where you, yes you, can purchase the latest Grimeology releases. In the future we hope to also have a little distro of hand-picked freshies and Grimeology favorites, not limited to just music (zines, clothing, etc). Check out the site, scope it, jam it, etc.
/// Speaking of new releases, here's the skinny: three new cassette jams.
GRM009: OAK / A SNAKE IN THE GARDEN "THE ENCHANTED FOREST" split/collab c28
GRM010: HUMAN TERATOGEN / VESTIGIAL LIMB split c28
GRM011: MATTHEW MAYER "CURDLED / SCUMMED" c30
all info on these releases can be peeped at
The Store.
///Heavy thanks to all Burlingtonians that came out to the show at Kriya Studio last night. We missed ID M THEFT ABLE due to car troubles, but many thanks to all that came, Kriya folks, Oak, and especially Nozal Cube for coming all the way from France! Visual treats below.
A SNAKE IN THE GARDEN
OAK
NOZAL CUBE
----------
takergrimey,
GRMLGY.07